IT'S ALL ABOUT YOU
YOGA RETREAT FOR FOODIES & CHANGE MAKERS
Immerse yourself in a world of balance. Choose between activity and serenity and enjoy modern-day comfort in natural surroundings. Whatever you desire from your retreat experience, you will find it with us.
This is not just a retreat with great food and and some yoga. This is a transformative experience that is going to help you look at what you really want, what you need and prioritise the most important person - YOU.
Date
Friday, 31 May - 2 June 2019 | we start at 4pm on Friday and finish at 2pm on Sunday
The venue...
Treescape is a gorgeous holiday home in the heart of picturesque Elie. Easily accessible, yet a world away from the demands and temptations of every day life. Small and stylish, Treescape it's the perfect place to come to if you just need to concentrate on yourself and do what needs to be done to fall in love with yourself again.
We have here 3 twin rooms and one room has got hand-build solid oak bunk beds with full size Tempur mattress. Rooms are not ensuite so we have 3 shared bathrooms/shower rooms.
You'll be in the safe experienced hands of well trained professionals who specialise in life coaching, yoga, mindfulness and food.
And welcomed with a smile…
What makes it special?
This retreat we are very lucky to have Ali Temple joining us on Friday.
A little Happiness Recipe Handbook
Ali is an international life and business coach. Having worked all over the world, overcome huge personal challenges and trauma and in a process building his own business he is very authentic and skilled at helping you to get to where you want to be in life.
Ali will work with us to discover that thing within each of us that lights and charges us up. To remind us who we want to be then help us create that in our life. Life Coaching is about giving you the tools to be the person you want to be - successful and more importantly fulfilled on our own terms.
What is important to us at Wandertreat is making changes or at least one change that last beyond the weekend we are together. This can be extremely challenging thus we have asked Ali to help us.
In the workshop we are going to consider the mechanics of the mind. If we discern what is that we really WANT and what is truly IMPORTNAT as well as break down the thoughts and feelings that are holding us back, we can take control over our own happiness and be the person we want to be.
Does the expression "you are your own worst enemy" rings true to you...How often do you say: 'oh I really need a break', 'I know I do too much, 'I am tired', or worse: ' oh no I can't', 'oh no, I will never be able to achieve that'. Those words and feelings are very limiting and can turn into a repeating cycle of self-sabotage. We are all wired in certain ways. We cannot change everything about ourselves but we do have the power to mould the future.
It won't be just one of those workshops where you manage to make the whole shopping list in your head and even draft a few emails. Ali won't just stand there and make you look at him nodding like every word he says is gold. This is an interactive workshop, this is an exercise, a survival camp, where all the effort you put in pays off with the highest reward: your own happiness.
What is included?
We provide you with a friendly and expert retreat environment in which you will have the chance to let go of anything that is holding you back, physically or emotionally. When you allow your body and mind to rest, cleanse and rejuvenate, you are giving yourself an opportunity to gain health, energy and happiness.
Life Coaching workshop with Ali Temple

Yoga sessions everyday. one session in the morning (for all levels, even beginners) and 1 hour blissfully relaxing yoga in the evening (this will include yin and some delicious myofascial release). Yoga will be led by Daria

Lots of positive affirmation, internal strength building and letting go of what we don't need in our body

Learning and discovering foods that empower you and make you thrive. Food will be prepared for you by Debbie.

Comfortable shared accommodation (all rooms are twin and one room has got hand-build solid oak bunk beds with full size Tempur mattress) - 3 shared bathrooms/shower rooms

Free time to explore and relax

Cosy lazy evenings by the fire

Only 8 people means it will not feel crowded and you will have the space to relax and restore
What is not included?
Transport to and from the retreat

Extra paid excursions during free time
Price & how to book?
TWIN ROOM: £349pp or save when booked together (works out as £315pp)

BUNK BED ROOM: £540 which works out as £270pp (must be booked together)
Please note that all prices are non refundable but if you find anyone to take your space we are happy to refund you the full amount minus any expenses incurred by us. We can also arrange a direct debit if you would like to spread your payments over a few months.
Searching Availability...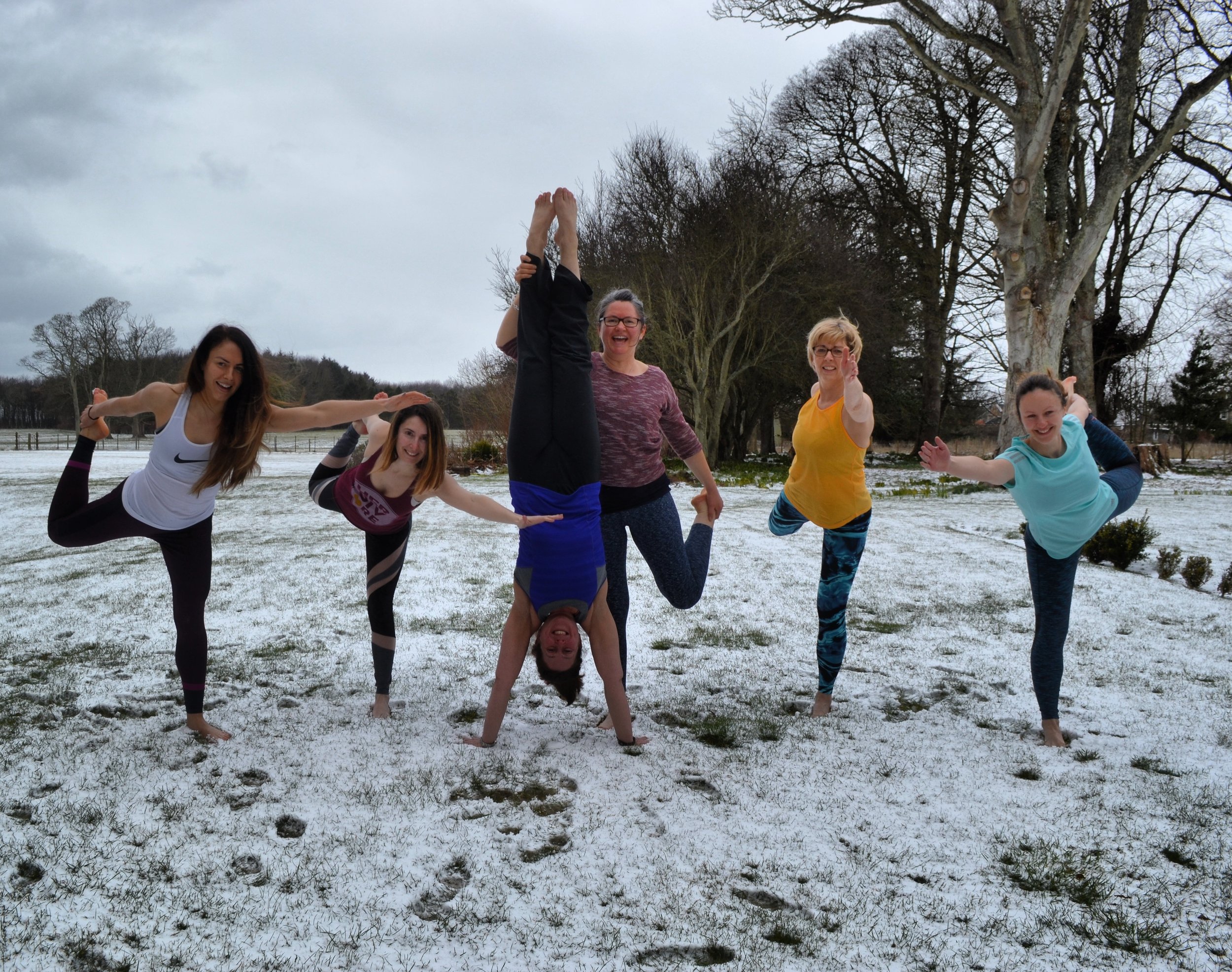 How to get there?
ADDRESS
Treescape, 3 The Orangery, Elie House, Elie, Fife, KY9 1EL.
BY CAR
To get directions click here .
The entrance to Elie House and Treescape is on the left between two stone arches, just before the speed derestriction signs. Follow this drive for a quarter of a mile. Treescape is the villa (number 3) closest to Elie House.
BY TRAIN
The closest train station is Markinch and you can get there from Dundee as well as Edinburgh, Glasgow and other parts of Scotland. From there it is a 15 mile drive. Let us know if you need help and we will arrange to pick you up from the train station.
Frequently asked questions
ITINERARY
Normally each yoga retreat starts from 4 pm, with the first yoga class starting at 6 pm followed by diner at 7pm. Some retreats finish on a Sunday after lunch (normally 2 night retreats) or on Monday at 10am (normally 3 night retreats).
8am(ish): Hot drink (lemon and ginger) and protein snacks pre-yoga

8.30am - 9.45am: Morning yoga and meditation session

10am: Healthy nutritious veggie 2-course brunch

Post brunch: Free time; read, explore, enjoy the beautiful surroundings

1/2pm: Healthy lunch

Post lunch: Pamper yourself or free time. Sometimes we have a workshop or a wee excursion. If we have a hot tub at the property then we are known for 5pm fizz.

6pm: Evening yoga and meditation class

7pm: Delicious 2-course wholesome dinner

10pm: Bedtime (or prosecco)
I HAVEN'T DONE MUCH YOGA BEFORE, CAN I COME?
We have designed this retreat for people who love yoga, whether they are beginners or have been practicing for years. Regardless of your experience we will adapt the classes to what feels confortable for you. Our ethos is open and friendly and we set up our business to spread yoga to people who perhaps wouldn't have gone on a yoga retreat before. So don't be shy, there is no time like the present to start your journey with yoga.
I AM QUITE AN EXPERIENCED YOGI, WOULD I ENJOY YOUR RETREATS?
Yes! All our retreats and holidays are suitable for those who have done little or lots of yoga. Retreats are so small and so unique we have the time and the space to always make sure that every single person in the group has their needs and expectations met over the time they are with us.
DO I NEED INSURANCE?
We have our own teacher's insurance and we are not planning any extreme sports, however, we require you to consider taking out your own insurance in case you have an accident whilst away, especially on your way to our retreat.
WHAT IS THE DIFFERENCE BETWEEN A RETREAT AND A HOLIDAY?
Our yoga retreats & wellbeing weekends are designed to be more relaxing and less adrenaline fuelled. They restore mental and physical health and leave you feeling invigorated in body and spirit. They are a perfect quick fix and escape from your busy life.
CAN I CANCEL MY RESERVATION?
Unfortunately, once booked you won't be able to cancel your booking however if you find someone who would like to take up your place we are happy to exchange it minus any expenses incurred by us.
CHECK IN AND CHECK OUT
Check in will start at 4pm on Friday and we will check out after lunch on Sunday (at around 2pm)
DO I NEED SPENDING MONEY
Not really unless you have extra things planned outside the retreat. All food and wine will be provided. You just need to arrive and relax!
IS THERE AN AGE RESTRICTION?
Yes, to participate you must be at least 1